EL TAIEB Group established in 1978. It specializes in manufacturing Acrylic Tubs based on 36 Years of experience, hard work & using the Latest industrial Techniques to produce unique
Products that had characterized by supreme quality and materials that comply with international standards. It's our pleasure to introduce our newest models, that Satisfy all tastes. Produced based on our expertise and equipped with the latest international designs, always Keeping our esteemed customers at the core.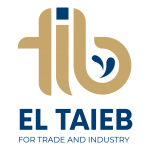 EL TAIEB is honored to share with you the success of El Taieb bathtubs over the past three
decades until we became the best in local and international markets. Our constant efforts to provide the best services for our customers make our company a pioneer in manufacturing bathtubs, shower cabins, shower rooms, and Jacuzzis in Egypt and the Arab world.
Our primary concern is to offer our customers unique, valuable, and reliable products
that will last for a lifetime. We believe that we can add a touch of luxury to your home, starting with your bathroom. Therefore, we thrive to reflect the most beautiful sides of our valuable client's personalities.
As an extension of our services to our targeted markets, we place high importance on our design of integrated bathrooms for our clients. Today, we employ more than 300 top professional workers to ensure that our clients' trust can withstand the challenges of innovation and creativity.